Porcelain Veneers – York, PA
Redesign Your Smile
Any number of issues with the color, shape, or size of your teeth can prevent you from enjoying the flawless smile that you deserve. Fortunately, there's an easy and effective way to make all of these changes at once: veneers. Dr. Cyriac can use one or more of these dazzling shells to enhance any number of teeth, leaving you with a dazzling, confident grin to show the world! Call York Smile Care today to schedule a consultation and learn more about transformative porcelain veneers in York, PA.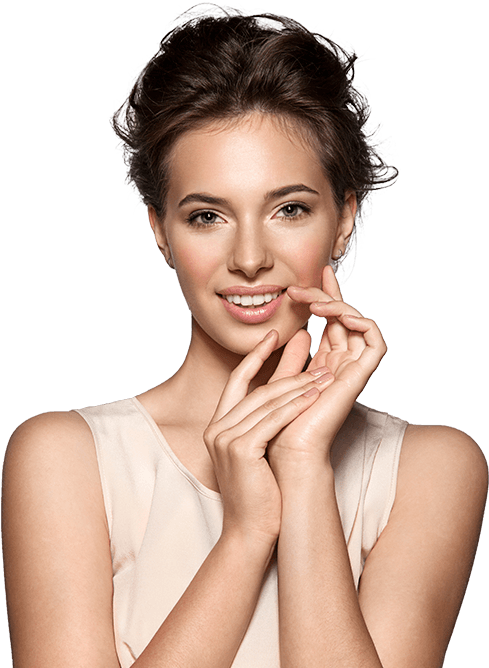 Why Choose York Smile Care for Porcelain Veneers?
No-Prep
Lumineers®
Durable
Restorations
Dentist with Over 25 Years of Experience
What Are
Porcelain Veneers?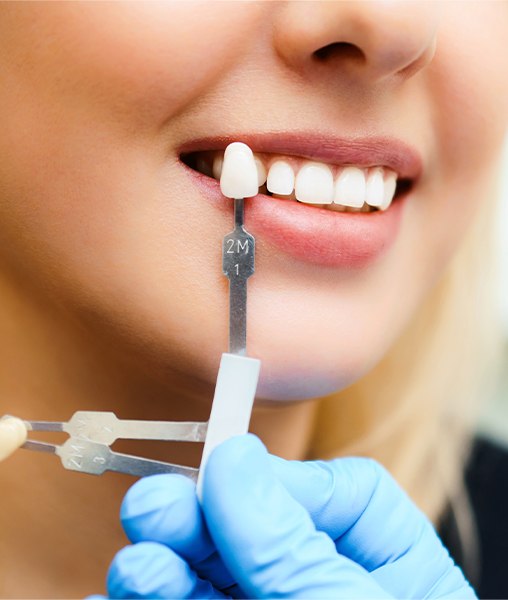 Made of tooth-colored porcelain, veneers are very thin. Unlike crowns that cover the entire tooth structure, veneers are specifically meant to only cover the front surface. They can hide severe stains, noticeable chips or cracks, spaces of a certain width, misalignments, and numerous other flaws, often at the same time.
Receiving porcelain veneers can take about two to three visits. At the first one, we'll set your expectations for what your smile will look like after the procedure. Then, after we've carefully prepared your teeth, we'll take an impression of your mouth. Said impression will be sent to a high standard laboratory, which is where the veneers themselves will be fabricated. After about 10 to 14 days, you'll return to our dental office to receive your permanent veneers. (You might be given temporary veneers during the waiting period.) The result will look and feel just like your natural teeth!
What Are
Lumineers®?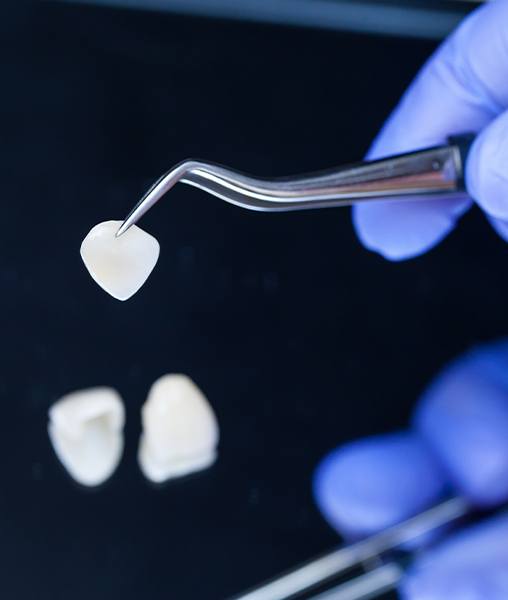 Patients with sensitive teeth might be hesitant to get veneers since enamel removal is normally required. Lumineers offer a simpler, pain-free alternative in these cases. Lumineers are about as thin as a contact lens – in other words, even thinner than traditional veneers. They can correct all the same flaws, but they can typically fit on the teeth without the need for preparation first. That means there is little to no need to remove enamel; we can simply place them on the teeth as is. Lumineers have been shown to last up to 20 years without becoming discolored.
Which Dental Veneers are
Right for Me?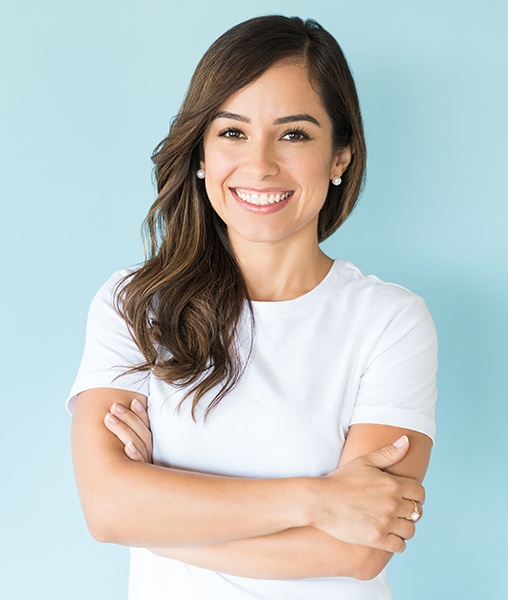 Generally, porcelain veneers last longer than Lumineers. They're also more opaque, meaning they can more effectively hide discoloration or signs of tooth decay. On the other hand, Lumineers are generally less costly and don't require permanent alterations to the tooth. They can even be removed later if you want. To help you decide whether veneers or Lumineers are best suited to your unique situation, Dr. Cyriac will explain the pros and cons of each in more detail during your first visit.
Which Dental Veneers are
Right for Me?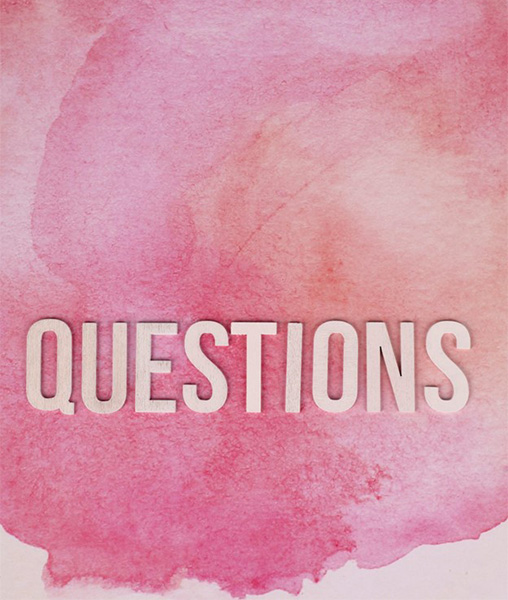 Veneers in York can give you the confident, stunning smile you desire, but they are a big commitment. Don't worry if you have a few concerns because Dr. Cyriac will explain everything during your consultation for veneers. While you wait for your appointment, here are the answers to the most frequently asked questions.
Are veneers permanent?
Veneers are designed to serve as a long-term solution; however, they aren't permanent. While they won't last forever, veneers aren't reversible either. Your dentist must remove a small amount of enamel during the preparation process to ensure your veneers sit flush. Although etching doesn't harm the health of your teeth, your enamel won't grow back. Therefore, your teeth must always be covered by restorations to protect them from any damage. Thankfully, you won't have to worry about replacements often. Veneers can last for a decade or longer with the right maintenance, like brushing and flossing. Visit your dentist every 6 months for a cleaning and checkup, and break any bad habits that may damage your veneers, like chewing on your fingernails.
Do veneers feel natural?
Modern veneers are thinner than ever, so they won't feel bulky. Each veneer is carefully crafted from an impression of your mouth to fit your teeth like a glove. There won't be any ridges or ledges for a sleek, smooth feel when running your tongue over them. They won't irritate the insides of your lips or cheeks. Although it may take a couple of days to adjust to your veneers, you may soon forget they aren't part of your natural smile.
How many veneers will I need?
A veneer can be bonded to a single tooth to fix a chip, crack, or stain; however, the overall goal is to improve your entire smile. As a result, your cosmetic dentist in York will recommend applying them to the teeth visible when smiling to correct multiple issues simultaneously. Every mouth is unique, so there's no way to know how many you'll need without first performing an examination. Some patients may require 4 to 6, while others may need 8 or more to achieve seamless results. Your dentist will explain how many you'll require during your initial consultation.
Does dental insurance cover the cost of veneers?
Veneers are considered an elective service, so it's rare for dental insurance to cover their cost, but there are some exceptions. If deemed medically necessary, you may be able to use your dental benefits to offset their cost. This can be the case when needing replacements; however, your policy may also cover the consultation or any prep work, like gum disease therapy. A member of our team will work on your behalf with your dental insurance to maximize any appropriate benefits. They'll explain how your coverage is being used and your payment options for any remaining balance, like third-party financing. We will help you find the solutions you need to turn the smile of your dreams into reality without draining your bank account.