Dentures – York, PA
More Comfortable, Durable, and Lifelike Than Ever Before
For centuries now, patients struggling with tooth loss have turned to dentures. While this tried-and-true solution has been popular for decades, advancements in recent years have made them more comfortable, durable, and lifelike than ever before. So, it's not too surprising that they continue to be one of the most sought-after tooth-replacement options. To learn more, don't hesitate to get in touch with our team. Otherwise, you can keep reading!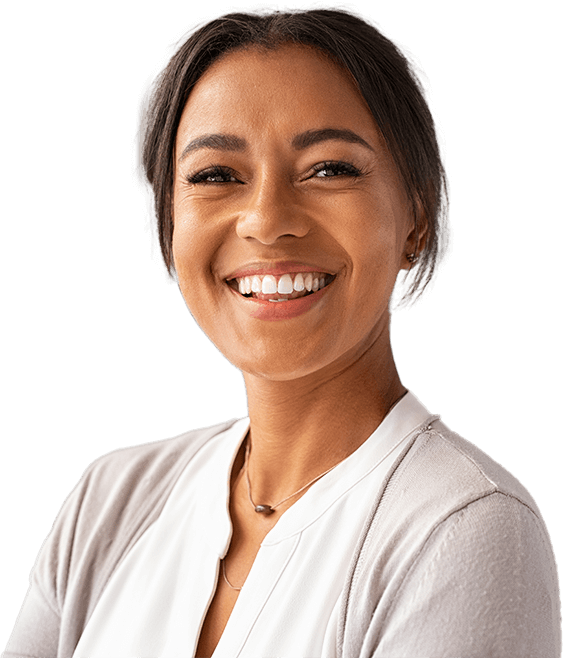 Why Choose York Smile Care for Dentures?
Experienced Dentist and Friendly Team
Lifelike, Custom-Made Dentures
Start-to-Finish Implant Placement
Who Is a Good Candidate for Dentures?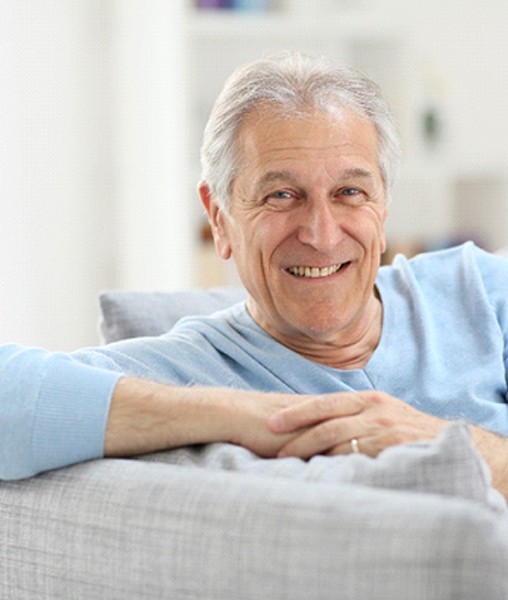 Are you struggling with moderate to advanced tooth loss? If so, then you may be a candidate for dentures in York. This effective tooth-replacement solution is designed to restore your smile, bite, and speech, improving your overall quality of life in the process. Thanks to advancements in dentistry and technology, nearly everyone is a candidate! In fact, even if an existing dental concern is present, like a damaged tooth or gum disease, a preliminary treatment can restore your oral health in preparation for your dentures.
Types of Dentures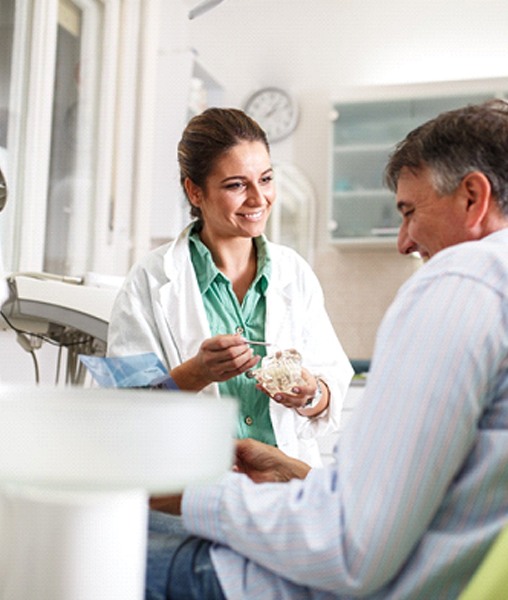 As mentioned above, dentures can restore your ability to smile confidently, chew effectively, and speak clearly. To accomplish this, each one is custom-made to address your specific dental needs. Below are three common types:
Partial Dentures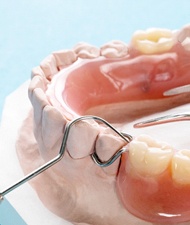 Partial dentures, as the name suggests, are designed to address partial tooth loss. So, if you still have a few of your natural teeth intact, this may be the solution you've been looking for! This appliance hides a series of metal framework underneath a gum-colored base, which clasps to your natural teeth. The lifelike prosthetic teeth seamlessly fill the gaps in your smile, providing you with a beautiful, healthy grin.
Full Dentures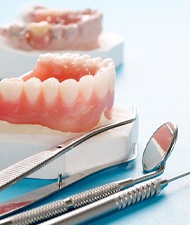 Are you missing an entire arch of teeth? Then full dentures are better suited for your dental needs. Although they also have a gum-colored base, the restoration is held in place with denture adhesive, natural suction, or a bit of both. The prosthetic teeth replace an entire arch, allowing you to smile, chew, and speak with confidence again!
Implant Dentures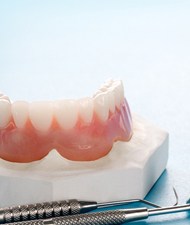 Implant dentures are a state-of-the-art approach to tooth loss that combines two tried-and-true tooth-replacement options: dentures and dental implants. With strategically placed implant posts and a custom-made denture to fit on top, patients can enjoy maximum durability, no unwanted movement, and a 20+ year lifespan.
The Benefits of Dentures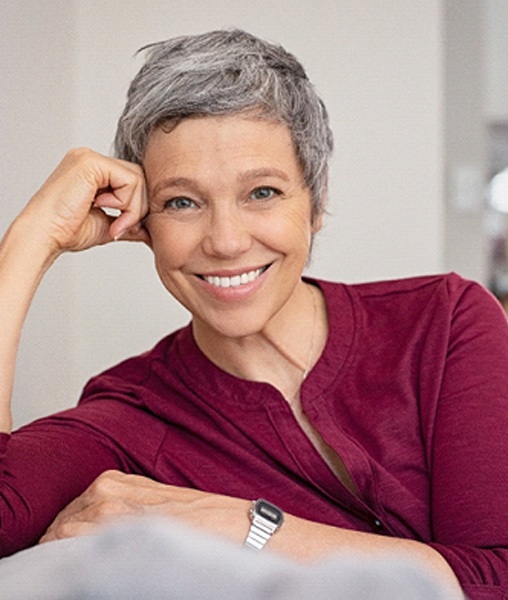 As a patient, you have numerous options to choose from to restore your smile. However, there are a few benefits that come with dentures:
Complete personalization
Cost-effective
10+ year lifespan
Easy maintenance
Preserves your youthful face shape
Understanding the Cost of Dentures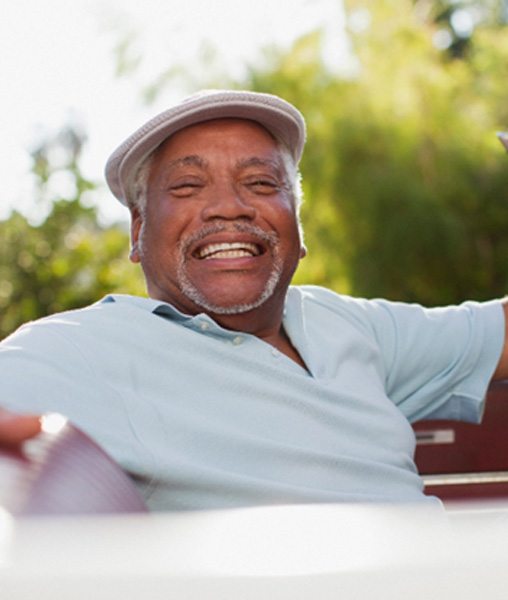 Are you interested in learning more about the cost of dentures in York before scheduling a consultation? This restorative treatment is a tried-and-true option for patients looking for a cost-effective and convenient solution to tooth loss, and our team works closely with you to make sure that your smile is restored to your standards. Below, we've included some helpful information about treatment pricing. If you have any additional questions, please don't hesitate to give our friendly team a call .
Factors That Affect the Cost of Dentures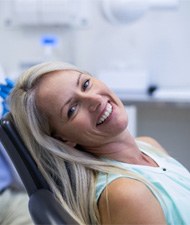 There are several different factors that can impact the overall cost of your treatment based on your unique tooth loss case. Some of these include:
Whether you require preparatory work, like a tooth extraction or gum disease therapy
The number of teeth you're missing, determining whether you need a partial or full denture
The materials that your denture will be crafted from
Even though an option may be the least expensive, it's important to consider all of the pros and cons of your choices as you undergo treatment to make sure that you're making sustainable decisions for your lifestyle and individual situation. You'll be using your dentures in York every day, and they'll become an integral part of your life, so it's important to make sure they're exactly what you want.
Are Implant Dentures More Expensive?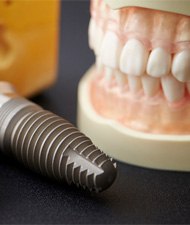 Implant dentures are a more costly option than traditional dentures because they add an extra step—the surgical placement of dental implants to replace the missing root structure of teeth. Even though they have a higher up-front price tag, they offer countless health benefits and a long lifespan that make them well worth the investment for some people. For example, the average lifespan of traditional dentures is about seven years, while implant dentures can last for up to 35 years with the proper maintenance. This means you won't have to pay for as many replacements or visit the denture dentist in York as often!
Does Dental Insurance Cover Dentures?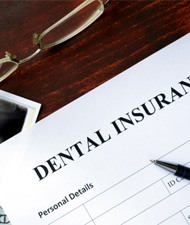 It's important to keep in mind that every dental insurance plan differs, so there's no such thing as a "yes" or "no" answer to this question, because it depends on your benefits. That being said, most insurance plans will cover at least a portion of the cost of dentures. Our team at York Smile Care is happy to help you find out about your coverage and submit a claim on your behalf. We're also proudly in-network with a majority of PPO plans.
Options for Making Dentures More Affordable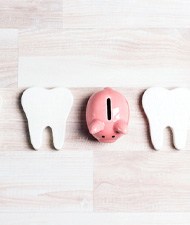 If you have an out-of-pocket cost that you'll need to pay for dentures or you don't have insurance, we also work with CareCredit and LendingClub, which are trusted third-party financers that offer low monthly payment plans at little-to-no interest. That way, you can split up the cost of your treatment to make it more affordable and fit within your budget. In addition to financing, we also regularly offer promotional specials. Currently, we're running a free dental implant consultation offer if you're interested in implant dentures!