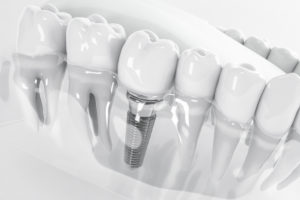 Before you invest your time and money into something, you always want to make sure it's worth it. This also includes a dental procedure. While dental implants are widely considered the top tooth replacement option, you want to ensure they truly will benefit your smile and oral health. The good news is that there are many priceless benefits and long-term savings for this unique tooth replacement. Read on to learn five of them!
#1. Improved Bone Health
Unlike dentures or dental bridges, dental implants are embedded into your jawbone using biocompatible titanium posts. Over time, your jawbone naturally grows and integrates with the posts, which forms a bond that is as strong as your natural teeth! This process is called osseointegration. The joining of the implant and jaw stimulates your bone to become stronger and prevents any more loss that can occur with tooth loss.
#2. Save Money on Repairs & Replacements
Other tooth replacements, like traditional dentures and dental bridges, typically need to be replaced after about 10 years. Dentures may even need to be adjusted every year or two to keep them fitting comfortably. This can end up costing you quite a bit of money and time. Conversely, dental implants are a reliable one-time investment that can easily last 30 years or more.
#3. Look Young & Vibrant for Years to Come
The roots of your teeth activate your jawbone whenever you bite or chew. When a tooth is missing, the jawbone loses circulation, leading it to break down. Eventually, this can impact your face shape, resulting in a sunken and wrinkled appearance. Dental implants are the only tooth replacement that encourages blood flow in the jawbone, keeping it strong and healthy and preserving your youthful facial features.
#4. More Reliable Functionality
Unlike dentures that can slip and slide when you're speaking, eating, or smiling, dental implants are rooted firmly in your mouth. This means you can eat your favorite foods and speak confidently without fear of any unexpected slippage. Implants provide peace of mind as your renewed smile feels and functions just like your natural one.
#5: Spend Less Money & Time on Dental Care
Unlike other restorations which require special products and upkeep, you will just simply need to maintain excellent oral health habits to preserve your dental implants. This should involve brushing twice a day and flossing daily. By being consistent with your routine and visiting your dentist regularly, you'll easily reap the benefits of time and saved money with your implants.
Dental implants are worth the investment in more ways than one! The benefits and possible long-term will make your complete, beautiful smile a valuable part of your life.
About the Author
Dr. Biju Cyriac and his team at York Smile Care keep the smiles of York healthy, whole, and beautiful. He earned his Doctor of Dental Surgery from the prestigious New York University College of Dentistry and has completed advanced courses in various dental specialties, including dental implants. With over 2000 implants placed, he can help restore your missing teeth all under one roof. To schedule a consultation, contact him through his website or call (717) 741-0893.