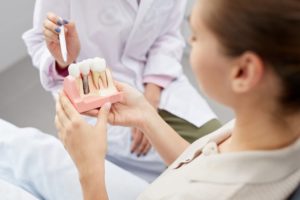 Whether you are missing one tooth or a lot of them, it can negatively impact your oral health, self-esteem, and quality of life. Fortunately, there is a solution that can change everything. Dental implants are the premier tooth replacement option. In terms of appearance and functionality, they are as close as you can get to natural teeth. If you are curious to learn more, just keep reading for a rundown of the basics of dental implants. This will give you a better foundation to see if you want to contact your implant dentist in York.
What Are Dental Implants?
Unlike other substitutes for natural teeth, dental implants are designed to replace the entire tooth structure. A titanium post is surgically inserted into the jawbone to mimic the root of your missing tooth. An abutment is placed on top of the post to connect your restoration. Implants are a popular solution because the result looks, feels, and functions just like the natural teeth you previously enjoyed!
The Process to Get Dental Implants
Even though most people can benefit from dental implants, not everyone is an ideal candidate. First, you need a thorough consultation with your dentist to ensure implants are the best solution for you. Depending on what your dentist determines, you may need additional procedures before your surgery.
Once you are approved, your next step will be scheduling your placement surgery. While choosing a date, keep in mind that you will spend several weeks healing. During surgery, sedation or local anesthetic is used so you will be comfortable while the implant post is placed into your jawbone. Then, a process called osseointegration – your bone fuses to the post – will occur while you're healing.
After your jawbone has healed, you will return to the clinic and your dentist will attach an abutment to the post. Finally, your dentist will secure a custom-made restoration to your implant, leaving you with a new, natural-looking smile!
What Are the Benefits of Getting Dental Implants?
If you are considering replacing your teeth with dental implants, they are a wise choice for several reasons:
Rediscover a functional, natural smile: Your restoration is customized to match the size, shape, and color of your remaining teeth. In all likelihood, only you and your implant dentist will ever know you had work done.
Reduce speech difficulties: Some people experience speech issues because of missing teeth. You may develop a lisp or another speech impediment if certain ones are missing. With dental implants, you will once again be able to speak normally.
Durable, simple-to-maintain option: Dental implants have impressive longevity, lasting 10-20 years with proper dental care. Plus, they don't require special maintenance, meaning you can continue your regular oral hygiene routine.
When quality and functionality are the priorities, dental implants are in a league of their own. Now that you've taken a crash course in dental implants 101, you have the foundation of knowledge to discuss them in-depth with your dentist during a consultation. Your journey to a stellar smile awaits!
About the Author
Dr. Biju Cyriac has been working hard for the smiles of his patients for nearly 30 years. He earned his dental doctorate from New York University. Dr. Cyriac is a member of the American Dental Association, the Academy of General Dentistry, and the American Academy of Implant Dentistry. If you are interested in dental implants, he can perform the entire procedure at his office location, a free implant consultation is available, and you can get a $500 discount on a single implant! Schedule a consultation on his website or call (717) 741-0893.