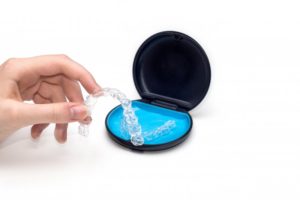 Invisalign clear braces can work wonders to straighten your teeth but wearing them doesn't mean you can let down your guard when it comes to oral hygiene. You're making an investment to straighten your smile, so you need to take care of business when it comes to cleaning your teeth, as well. Keep reading to learn from your dentist in York about the possibility of developing cavities during Invisalign treatment and what you can do to protect yourself.
Can Invisalign Protect Me from Cavities?
No matter what treatment you are using to straighten your teeth, cavities are still a possibility. Oral hygiene is always crucial to prevent tooth decay. Consider that you take out your Invisalign when you eat.
If you put your aligners back in without cleaning your teeth properly, you are trapping harmful bacteria against your teeth. In this regard, you are potentially even more vulnerable to cavities, so brushing your teeth and other aspects of your oral hygiene regimen remain very important during Invisalign treatment.
What Should I Do If I Get a Cavity?
If you do get a cavity during treatment with Invisalign, you should make an appointment with your dentist right away to have it fixed. Otherwise, you allow the decay to worsen. Don't worry – your dentist can meticulously restore your tooth, ensuring the size and shape replicates the natural structure. As a result, you may not even need a new aligner!
How Can I Avoid Getting Cavities During Invisalign Treatment?
Here are some ways you can reduce your risk of developing cavities during treatment:
Keep your aligners clean: You must keep your Invisalign trays clean to prevent them from staining and to reduce your tooth decay risk. By brushing and soaking your aligners, you will remove food particles and harmful bacteria.
Maintain great oral hygiene: The best way to avoid cavities and other dental health issues is to do an excellent job cleaning your teeth and gums. Remember to brush and floss after you eat but before you put your Invisalign trays back in.
Visit your dentist: Be diligent about following through with your regular checkups with your dentist in York throughout your Invisalign treatment to ensure everything is going as planned. The cleanings performed at the dentist's office will clear away plaque and cavity-causing bacteria. Plus, if you do have an oral health issue, the dentist can identify and address it so that your Invisalign timeline is not compromised.
Invisalign can do a great job of serving its purpose to straighten teeth, but it can't protect you from cavities. Fortunately, you are in control of your oral health! Good daily cleaning habits on your part will help you avoid cavities during Invisalign treatment on the way to a stellar smile.
About the Author
Dr. Biju Cyriac has been working hard for the smiles of his patients for nearly 30 years. He earned his dental doctorate from New York University. Dr. Cyriac is a member of the American Dental Association, the Academy of General Dentistry, and the American Academy of Cosmetic Dentistry. If you are interested in Invisalign, he will create custom aligners for your smile – you wear each set for about two weeks before advancing to the next one. Step one is to schedule a consultation on his website or by calling (717) 741-0893.