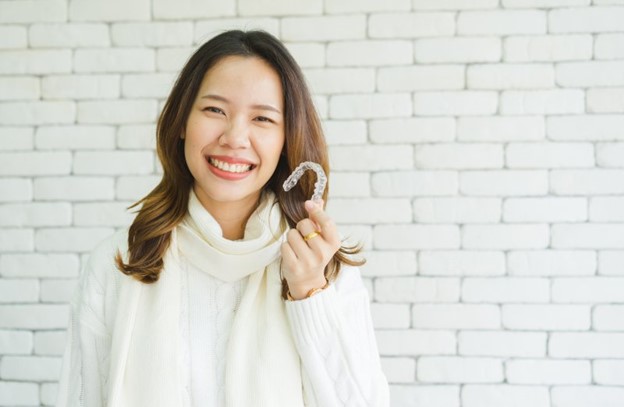 If you're undergoing Invisalign treatment to correct your crooked teeth, you're probably very excited to be on your way to a healthier smile! Not only will these aligners straighten and significantly improve the appearance of your teeth, but they'll do so in a subtle fashion. However, it's up to you to ensure that they do their job, meaning that taking proper care of your aligners is crucial. Here are some tips to help you keep your Invisalign aligners clean and functional without compromising your treatment process.
1. Remove Your Aligners to Eat or Drink
One surefire way to compromise your Invisalign treatment is by eating and drinking while wearing your aligners. Dark-colored foods and liquids can easily stain your aligners, giving them a noticeable yellow tint that makes your teeth seem stained, too! Additionally, hot items like coffee or tea can warp and disfigure your aligners, rendering them useless. Be sure to completely remove your aligners whenever you sit down to eat or drink. The one exception to this rule is drinking water.
2. Rinse Your Aligners Whenever You Remove Them
Your aligners are still susceptible to collecting bacteria when they're outside of your mouth, so it's important to regularly rinse them when you aren't wearing them. Even if you brush your teeth daily, you can still expose your mouth to plaque-causing bacteria that forms on your trays. Thoroughly clean your aligners every morning and evening with an Invisalign-friendly cleaning solution and lukewarm water.
3. Properly Store Your Aligners
Even though you need to wear your aligners for roughly 22 hours each day, you're still responsible for them 24 hours a day. When you aren't wearing your aligners, store them in their sturdy carrying case. This will protect them while they're outside of your mouth and help you to keep track of them. You can't meet your smile goals with damaged or missing aligners!
4. Brush and Floss Before Wearing Your Aligners
Your aligners can do a lot for your smile, but the rest is up to you. Practicing good oral hygiene habits will ensure that your aligners are correcting a healthy and brilliant set of pearly whites! Brushing and flossing daily also helps prevent food particles from getting stuck against your teeth when you're wearing your aligners. Be mindful of certain oral products, including toothpastes, that can potentially harm your aligners.
Your Invisalign treatment is a big step towards achieving the smile of your dreams, but the success of your aligners is heavily dependent on your willingness to take care of them! Consider these tips during your treatment to ensure that your results are astonishing.
About the Author
York Smile Care proudly serves the dental needs of patients and families in the York area under the leadership of Dr. Biju Cyriac. Dr. Cyriac received his dental doctorate from the prestigious New York University College of Dentistry and has over 30 years of experience in the dental field. He is also a member of many professional organizations including the American Dental Association, the Academy of General Dentistry, and the Pennsylvania Dental Association. If you have any questions for Dr. Cyriac or would like to schedule an appointment, please visit his website or give him a call: (717) 741-0893.