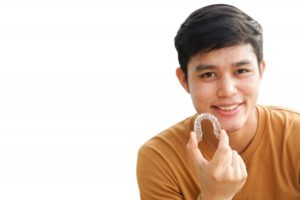 When people hear "orthodontic treatment," they typically envision a mouth full of metal wires and brackets. However, Invisalign is another excellent alternative solution for misaligned teeth that can help people achieve the smile of their dreams without the hassle of conventional metal braces. Plus, there are many freedoms of Invisalign you can enjoy while undergoing treatment! Read on to learn from your dentist in York about some examples of how clear aligners can help you feel more comfortable while correcting your smile.
Enjoy Socializing More
Although metal braces certainly don't prevent you from socializing, feeling self-conscious about them can make you dread doing so. Some patients end up feeling more embarrassed about the brackets on their teeth than the misalignment or gaps in their smile. Fortunately, wires and brackets are no longer your only option for straightening teeth. With Invisalign's clear aligners, you can smile, eat, and laugh with complete confidence! The plastic trays are virtually invisible, meaning no one will even notice you're wearing them unless you mention it.
Ensure Eating Is a Pleasurable Experience
Unlike traditional metal braces, there are no dietary restrictions while undergoing Invisalign treatment. Since the clear aligners must be removed before eating or drinking anything that's not water, you can continue to enjoy all your favorite foods! Pizza crust, popcorn, chewing gum, taffy, and hard candies are off-limits with traditional braces, but with Invisalign, you can eat them whenever you're not wearing your trays. Just remember to pop out the aligners for every meal or snack! Otherwise, you risk staining or breaking them.
Smile Confidently
With Invisalign, you will start seeing results almost immediately! Your teeth gradually shift throughout the treatment, moving until they are entirely straight. Since the aligners are clear, you'll be able to see your smile improve day by day. Once your teeth begin to look straighter, you'll never stop showing them off. You'll constantly be smiling because you'll feel happier! Getting this mood boost is certainly worth the time and effort for treatment.
Reduce Irritation and Discomfort
Each time you start a new tray cycle, it's normal to experience some discomfort and soreness. It's because the clear aligners use constant gentle pressure to shift teeth into a more desirable position. However, most patients prefer this mild discomfort over the irritation that wearers of traditional metal braces must endure. Wires and brackets are sharp, meaning they have the potential to tear and scratch the gums, lips, and cheeks. With Invisalign, you will never have this problem. The sleek and comfortable aligners pose no threat to your mouth tissues.
Are your teeth misaligned? Talk to your dentist in York. Before you know it, you'll get stunning results while enjoying the many freedoms of Invisalign!
About the Author
Dr. Biju Cyriac has been working hard for the smiles of his patients for nearly 30 years. He earned his dental doctorate from New York University. Dr. Cyriac is a member of the American Dental Association, the Academy of General Dentistry, and the American Academy of Cosmetic Dentistry. If you are interested in Invisalign, he will create custom aligners for your smile – you wear each set for about two weeks before advancing to the next one. Step one is to schedule a consultation on his website or by calling (717) 741-0893.