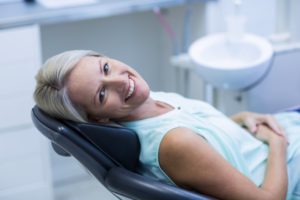 Are you thinking about getting dental implants? Truly, they are the best form of tooth replacement available today. But are they right for you? A qualified dental expert can help you answer that question for sure. In the meantime, we can provide a basic list of some of the top qualities that define an ideal dental implant candidate.
1. Healthy Gums
Gum disease is a dangerous infection that can lead to tooth loss and a range of other problems. When it is present around dental implants, it can drastically reduce their chances of long-term success. If you have signs of gum disease, such as red or swollen gums, you must seek appropriate treatment before you can embark on your journey with dental implants.
2. A Healthy, Adequately Sized Jawbone
Dental implants bond with the bone around them in a process known as osseointegration. For the implants to be as stable as possible, they require maximum contact with the jaw. If the bone is too small or weak to support the implants, it is more likely that osseointegration will fail. For patients whose jawbone lacks the adequate volume and density, a bone graft may be necessary.
3. Good Oral Care Habits
Do you floss once a day and brush twice a day? If you do, you are already well on your way to becoming an ideal dental implant candidate. After your implants are in place, your excellent oral hygiene routine will protect them from infection and help them to keep functioning at their best. If you recognize that your habits could use some improvement, ask your dentist or hygienist for personalized tips.
4. Fair Overall Health
Certain systemic health conditions can adversely affect dental implant outcomes. For example, uncontrolled diabetes can slow down healing after surgery, increase your risk of infection, and ultimately contribute to dental implant failure. If you are a diabetic, you should make every effort to ensure that your condition is under control before you pursue dental implant treatment.
Other health conditions, such as cancer, heart disease, and pregnancy, may also have a bearing on whether dental implants are right for you at this time.
5. Wise Lifestyle Choices
Smoking and chewing tobacco can significantly increase the risk of dental implant failure. It would be wise to kick such habits at least a few months before your implant surgery. Your primary care practitioner may be able to provide you with practical tips on how to win your battle.
Also, keep in mind that heavy alcohol consumption may also have negative consequences for dental implants. If you choose to drink, you should do so only in moderation.
Do you believe that you are a good candidate for dental implants? Even if you do not qualify right now, your dentist may be able to create a plan to help you become a candidate in the near future. Hopefully, you have many healthy, strong, and complete smiles ahead of you!
Meet the Practice
Dr. Biju Cyriac has more than 30 years of experience in dentistry. During 14 of those years, he placed more than 2,000 dental implants! He greatly enjoys helping patients to rebuild their smiles, and he would be happy to help you as well. To learn more about Dr. Cyriac and our practice, contact York Smile Care at 717-741-0893.